Sam Vic Insurance website, gets a new look.
Our work with Sam Vic Insurance Brokers Limited provided us with an opportunity to deploy our services to a forward-thinking company at the forefront of ensuring that businesses are covered and protected against the unforeseen risks that come with running a business in Nigeria.
Sam-Vic Risk Insurance Brokers Limited is an insurance brokering and risk management firm committed to providing her clients with uncommon solutions to common insurance and risk management issues. They are on a mission to demystify the myth surrounding insurance and its products. We redesigned their website to communicate the company's value proposition while enabling it to serve as a key lead generation platform.
Move image slider from left to right to reveal before and after of the website.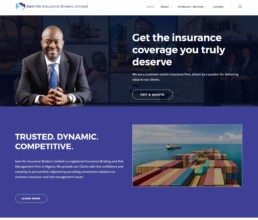 Communicating TRUST is key for Financial Institutions.
Using custom icons to clearly communicate diverse services.